Hardware
For a better distribution of the LEDs, the design of the PCB board was designed in 3 parts to facilitate the machining, developing even the repair of the components in case of failure. Therefore, said briefcase is formed by 2 equal plates and a third plate arranged as follows:
x2
x1
The method of manufacture of the printed circuit boards has been made with positive plates emulsified and subsequently the insolado of the photolites thereof. To assemble the components, proceed as follows:
         
1st: Installation of 68 ohm resistors.
         
2º: Placement of lso ultraviolet lgs.
         
3º: Placing the protection capacitor.
         
4º Placing the connector.
  The images of the mounted plates are as follows:
Figure 1: PCB 1 top view
Figure 2: PCB 1 bottom view
Figure 3: PCB 2 top view
Figure 4: PCB 2 bottom view
Due to the consumption of each plate, a computer power supply will be used for the development of the briefcase. In the following images, the plates are shown: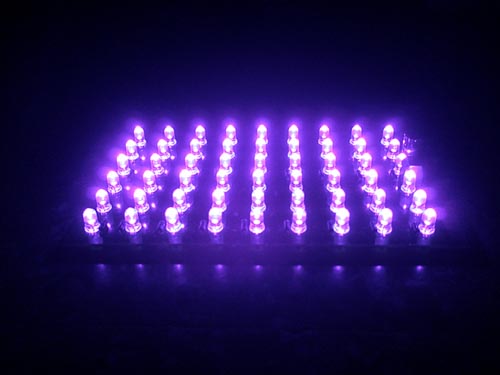 Figure 5: PCB 1 on
Figure 6: PCB 2 on